Wandering with a Purpose: Some Thoughts on NLP and Charting Your Own Course.
Published:
Talk Description: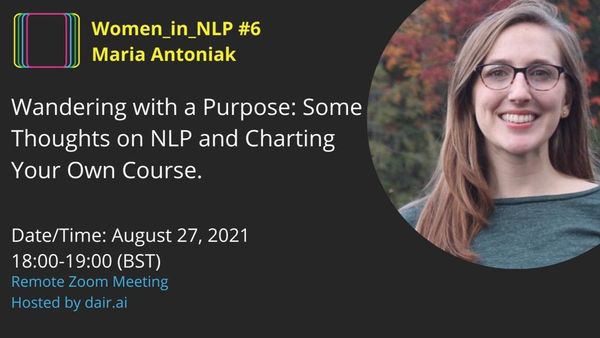 Talk Link:
The video is available online here.
Speaker:
Maria Antoniak
Date and Time:
Tuesday the 27th of August 2021 at 18:00 (BST)
About the speaker:
Maria Antoniak is a Ph.D. candidate in Information Science at Cornell University. Her work focuses on unsupervised natural language processing methods and applications to computational social science and cultural analytics. She has a master's degree in computational linguistics from the University of Washington and a bachelor's degree in humanities from the University of Notre Dame. In industry, she has worked as a data scientist at a startup and interned at Pacific Northwest National Laboratory, Microsoft, Facebook, and Twitter.
https://maria-antoniak.github.io/
Event link: